JumpStart® by Arthrex, Inc.
Orthopaedic Surgery, Sports Medicine, Veterinary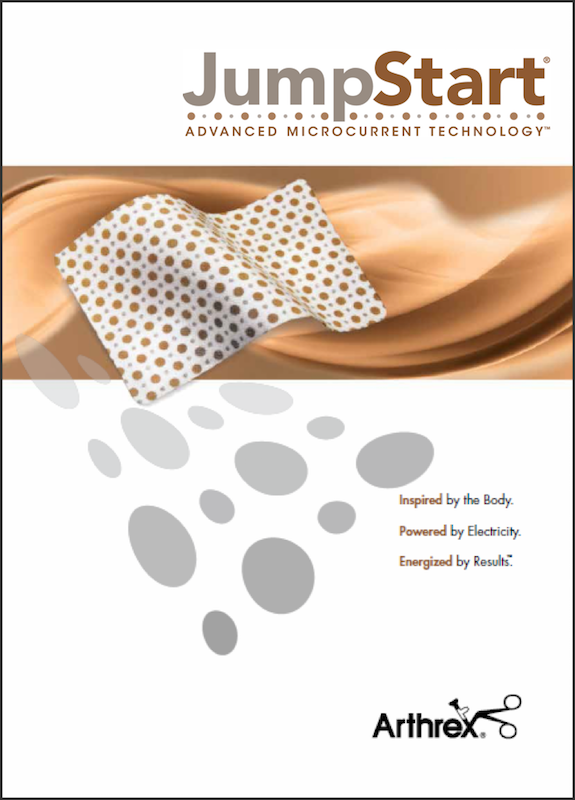 Advanced Microcurrent Technology® is exclusively sold under the name JumpStart Antimicrobial Wound Dressing in the orthopaedic surgery, sports medicine and veterinary markets by Arthrex, Inc. Arthrex is a global medical device company and a leader in new product development and medical education in orthopaedics and sports medicine, exporting to more than 100 countries throughout the world.
Order From Arthrex
Product Details
JumpStart is the only wound dressing in the orthopaedic and sports medicine markets that is powered by Advanced Microcurrent Technology.
It provides a non-pharmacologic approach to antimicrobial efficacy.
JumpStart dressings are designed specifically for the unique needs of orthopaedic surgeons and their patients.
Dressings are sized and shaped to cover specific types of surgical incisions, wounds or abrasions.
Dressings are designed to conform to bone/joint contours.
Dressings are designed to stay in place and move with joints, allowing patients/athletes unrestricted range of motion and mobility so they can return to activity.
Arthrex, the Arthrex logo, and JumpStart are all registered trademarks of Arthrex, Inc.
Partner With Vomaris
Based on firmly established principles of the essential role electricity plays in regeneration and healing, Advanced Microcurrent Technology has utility across a broad spectrum of applications. Become a partner in advancing microcell battery-generated electricity to power improved healing and the future of performance and recovery.
Become a Partner