VolTACTM by Integra Lifesciences Corporation
Wound Care, Plastic & Reconstructive Surgery, Burns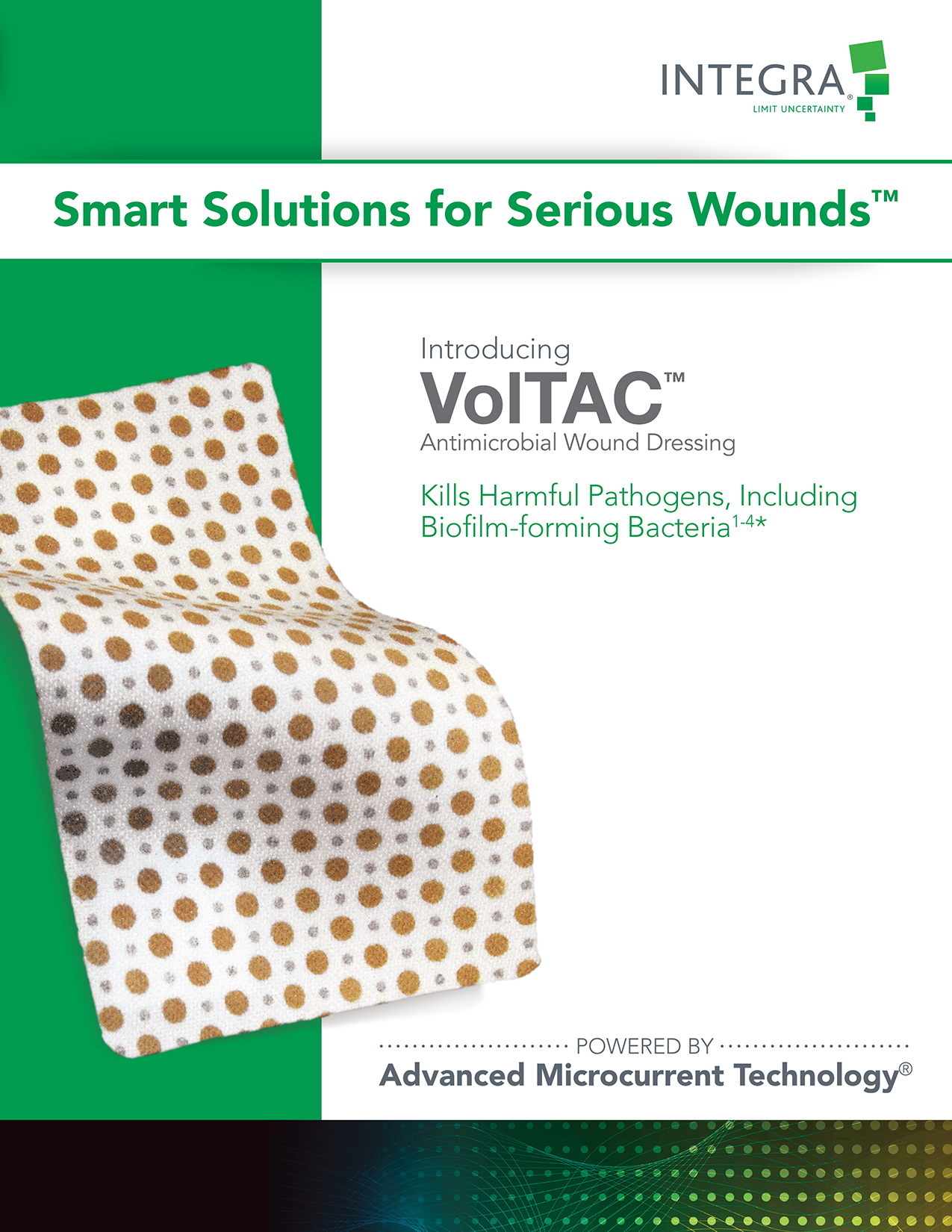 Advanced Microcurrent Technology® is exclusively sold under the name VolTAC Antimicrobial Wound Dressing in general wound care, plastic and reconstructive surgery, first and second degree burns, and other general/vascular surgery markets by Integra LifeSciences Corporation. Integra is a world leader in medical technology dedicated to limiting uncertainty for clinicians, so they can concentrate on providing the best patient care. Integra offers innovative solutions, including leading plastic and regenerative technologies in specialty surgical solutions, orthopedics, and tissue technologies.
Order from Integra
Product Details
VolTAC Antimicrobial Wound Dressing: A new technology within Integra's Smart Solutions for Serious WoundsTM portfolio.
A revolutionary new dressing powered by Advanced Microcurrent Technology may reduce the risk of infection while supporting the body's natural healing process2-6, 8-10,15.
Flexibility: Lightweight and portable; conforms easily to body contours with no need for external power source.
Adaptability: Supports standard care protocols with active therapies and devices.
Extensibility: Highly versatile platform with customizable shapes and sizes for individual applications.
VolTAC Antimicrobial Wound Dressing is intended for the management of wounds to provide a moist wound environment. It is indicated for partial and full thickness wounds such as surgical incisions, pressure ulcers, venous ulcers, diabetic ulcers, first and second degree burns, donor and/or recipient graft sites, etc.

Please see the Instructions for Use for a complete listing of the indications, contraindications, warnings and precautions.

Integra and the Integra logo are registered trademarks of Integra Lifesciences Corporation, or its subsidiaries in the United States and/or other countries. VolTAC and Smart Solutions for Serious Wounds are trademarks of Integra Lifesciences Corporation, or its subsidiaries.


Partner With Vomaris
Based on firmly established principles of the essential role electricity plays in regeneration and healing, Advanced Microcurrent Technology has utility across a broad spectrum of applications. Become a partner in advancing microcell battery-generated electricity to power improved healing and the future of performance and recovery.
Become a Partner