Introducing the Vomaris™ Face Mask with V.Dox™ Technology
Inspired to Innovate
Throughout the world, COVID-19 has dramatically changed how we live and inspired innovation at a whole new level to help people stay safe from virus transmission. Today, staying safe means new things:1
Frequent handwashing
Social distancing
Wearing a face mask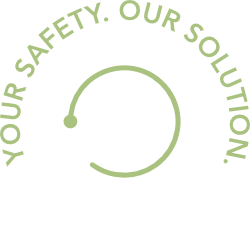 At Vomaris™, the inspiration for innovation lay in our proprietary V.Dox™ Technology. Our mission has always been to revolutionize infection control and wound healing through the delivery of microcell battery-powered electricity. But when the COVID-19 public health emergency revealed a critical shortage in personal protective equipment (PPE), we knew we needed to broaden our focus. We immediately began design and development work on face masks to help prevent the spread of SARS-CoV-2, the virus that causes COVID-19. We have expanded our mission's focus on infection control to include PPE. Our innovation is represented in the only mask of its kind— the Vomaris Face Mask with V.Dox Technology.
A comfortable, customizable solution
100% polyester that is soft, comfortable, and highly breathable
Two sizes to fit and contour to multiple face shapes
Adjustable ear loops and nose piece keep the mask in place, minimizing repositioning and potential touch contamination
When moistened, feels cool on the skin
Washable and reusable up to 20 times
Made in the USA
Manufactured in an ISO 13485-certified, FDA inspected facility
Inner Layer

Water resistant coating keeps skin comfortable and dry

Center Layer

Comfort cushion with aluminum nose piece fit securely around nose

Outer Layer

Embedded microcell batteries:
Find your fit
L

Measurement from bridge of nose to bottom point of chin
W

Measurement from front of right ear to front of left ear
S | M

Length: 5.5" to 6.5"
Width: 8.5" to 10.5"

L | XL

Length: 6.5" and above
Width: 10.5"and above
Note: Select the largest size that your measurement is closest to.
The only mask with
V.Dox Technology
The Vomaris Face Mask is the only mask to offer V.Dox Technology—embedded microcell batteries that wirelessly generate electricity in the presence of moisture.
Electric fields have been scientifically demonstrated to inhibit or kill microorganisms.2-5
Download Instructions for Use for application, washing and drying instructions, materials, and a full list of warnings and precautions.
Your safety. Our solution. Only V.Dox™
References:
Vomaris Face Mask has been authorized by FDA under an EUA for use as source control by the general public as well as by HCPs in healthcare settings to help prevent the spread of infection or illness during the COVID-19 pandemic.
This product is authorized only for the duration of the EUA.
This product has not been FDA cleared or approved.
Is not intended for use as a surgical mask and does not provide liquid barrier protection.
It should not be used in clinical settings where: significant exposure to liquid, bodily, or other hazardous fluids may be expected; clinical settings where the infection risk level through inhalation exposure is high; and in the presence of a high intensity heat source or flammable gas.
It should not be used in place of a surgical mask or filtering facial respirator as it does not provide liquid barrier protection, antimicrobial/antiviral protections, respiratory protection, particulate filtration, or protect in high-risk aerosol generating procedures.
It does not prevent COVID-19 infection or influenza.